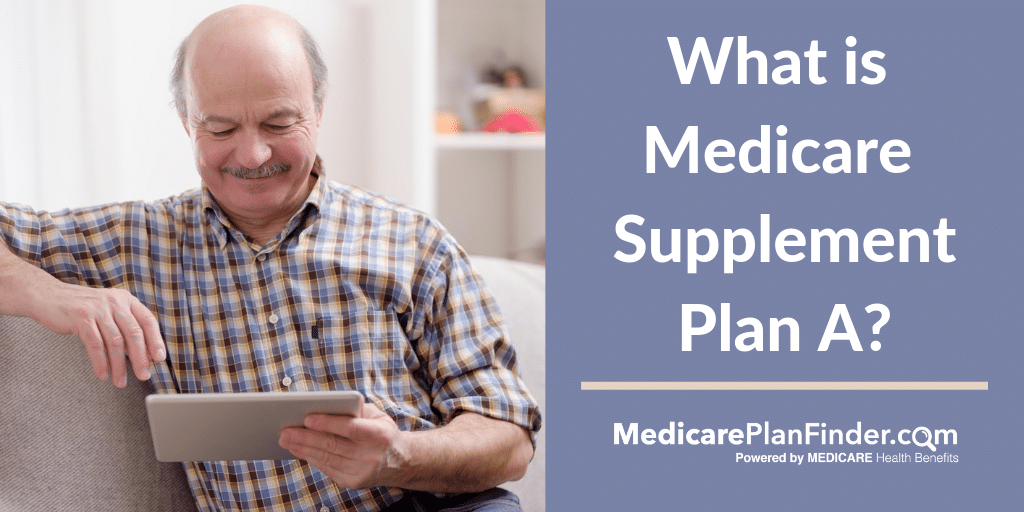 What is Medicare Supplement Plan A?
April 8, 2019
Medicare Supplement Plan A is often referred to as Medigap Plan A or Medicare Plan A. Like other Medicare Supplements, Plan A helps cover the gaps that Original Medicare does not, including coinsurance, copayments, and deductibles. There are ten types of Medicare Supplement plans (A, B, C, D, F, G, K, L, M, N).
About Medicare Supplements
Most plans are guaranteed renewable life, meaning as long as you pay your premium on time, you won't be canceled from your plan due to a new health condition. Plus, unlike Medicare Advantage plans, Medigap plans are generally the same no matter which carrier you enroll with. If you're looking for coverage assistance, a Medigap plan may be the way to go – but which one? Here's everything you need to know about Plan A.
What does Medicare Supplement Plan A cover?
Plan A offers the least amount of benefits among all Medicare Supplements, but that doesn't mean you shouldn't consider it! The less benefits a plan provides, the lower the monthly premium is. Since Plan A offers the least coverage, it is typically one of the cheapest plans on the market. Plan A covers:
Part A coinsurance and hospital costs
Part B coinsurance and co-payments
Bloodwork co-payments (up to 3 pints)
Hospice coinsurance and co-payments
Plan A Costs
All Medigap plans provide the same basic benefits regardless of which carrier you choose. This means if you want to purchase Plan A, you will have the same coverage whether you enroll with Aetna, Blue Cross Blue Shield, or Cigna, etc. However, here's the catch… the costs will vary based on carrier, zip code, age, gender, and tobacco use. Some plans are as low as $70/month while some are as high as $140/month. Certain plans can add extra benefits, like SilverSneakers®, but this is rare.
If you choose to enroll in a Plan A Medicare Supplement plan, you will be responsible for your Medicare Part A and B deductibles. You will also be responsible for any skilled nursing facility care coinsurance, Part B excess charges, and emergency health costs while traveling. This is great if you rarely see unexpected health costs and would rather have lower monthly costs than high premiums for benefits you don't use.
You know your health better than anyone, and if you generally have high costs in the areas that Plan A does not cover, it may not be the best plan for you. Instead, you should consider the popular, more comprehensive, Plan G.
Plan A Reviews
If the benefits are going to be mostly the same no matter which carrier you choose to go with, why do the prices differ? There is no reason to overpay when the benefits are the same. There are so many top rated companies that sell Medigap. Companies with higher ratings have plans with higher ratings. Customer service is also an important factor. Here is a list of the top Medigap carriers for 2019:
AARP
Aetna
Amerigroup
Cigna
Humana
Mutual of Omaha
WellCare
Plan A for Disabled People
If you are under 65 and qualify for Medicare through a disability, you may be able to enroll in a Medicare Supplement plan. The availability of these plans will vary depending on where you live. Federal law doesn't require companies to sell you a plan if you are under 65 unless you live in California, Massachusetts, or Vermont. These states are required to offer at least one Medigap policy. Other states may offer Medigap plans, but they are not required to by law. Policies for those under 65 often cost more, so you may want to consider a Medicare Advantage plan instead.

Medicare Part A vs. Plan A
Medicare can be confusing, and it's easy to confuse all the different parts and plans. We don't want you to confuse Medicare Supplement (Medigap) Plan A with Medicare Part A. Part A is part of Original Medicare and covers hospital care, skilled nursing facility care, hospice, and home health services. Plan A is one of the ten Medicare Supplement Plans. You may hear Plan A referred to as Part A, but Plan A is the correct term. Here's an easy way to remember it: Medicare only has four parts (A, B, C, and D), while all Medicare Supplements are referred to as plans.
Enroll in Medicare Supplement Plan A
The best time to enroll in a Medicare Supplement plan is during your initial enrollment period (three months before and after your 65th birthday). During this time, you can enroll in any plan that's available in your area regardless of any health issues you may have. Outside of your IEP, you can enroll year around, but carriers can deny you or charge you more for existing conditions. Your best bet is to speak with a licensed agent. There is never a cost for meeting with one of our agents, and you are never obligated to enroll. Fill out this form or give us at a call at 844-431-1832.