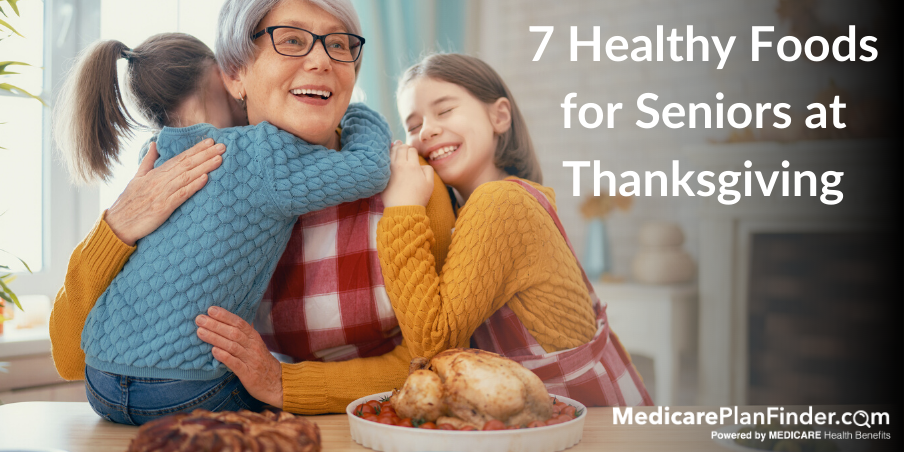 7 Healthy Foods for Seniors at Thanksgiving
November 1, 2021
Thanksgiving is a day for delicious food, friends, family, memories, and traditions, but one of those traditions doesn't have to be unhealthy eating! Find a way to add these seven healthy foods for seniors to your Thanksgiving table and take a walk around the block. You may feel way better than if you just took a nap after you were done with your meal.
1. Turkey Breast
To many people, Thanksgiving isn't complete unless you eat turkey. Turkey breast is a great source of lean protein, especially if you remove the skin. According to the USDA, 100 grams (about 3.5 ounces) of cooked skinless turkey breast has 32 grams of protein. Plus, there's only 166 calories, and three grams of fat!
2. Sweet Potatoes
Sweet potatoes are a superfood, which means that they are packed with nutrients. Not only do sweet potatoes have four grams of fiber, but they have high amounts of antioxidants such as Vitamin A and Vitamin C.
We love a good sweet potato casserole, but if you skip the brown sugar and marshmallows, you can save a lot of empty calories with your Thanksgiving dinner, which may be kind to your waistline.
3. Green Beans
Many people serve green bean casserole at Thanksgiving. According to Campbell's, the traditional recipe has 118 calories and seven grams of fat for only one-half of a cup. That's about half the size of your fist. That 118-calorie figure is when you use reduced fat cream of mushroom soup. And you really don't save that many calories with the lower-fat version of the soup. Campbell's full-fat version only has 20 calories more.

When you add cream of mushroom soup, milk, and French-fried onions to green beans, you add a lot of unnecessary calories. According to the Food and Drug Administration (FDA), three-fourths of a cup of steamed green beans has only 20 calories. They are also a rich source of vitamins A, C, and K. Green beans also have a lot of fiber and folic acid.
4. Fruit Desserts
It may be easier than you think to eat sweet foods without being unhealthy. The key is making the right choices. Pumpkin pie with whipped cream may be a Thanksgiving staple, but consider adding fruit tarts or baked apples to the table. Fruit is naturally sweet, so you don't have to add much sugar to those desserts.
Fruit has many benefits for seniors. Not only is fruit loaded with antioxidants, it has a high water and fiber content, making it quite filling.
5. Veggie Trays
Consider having a veggie tray with low-fat dips as a Thanksgiving appetizer. You can add bell peppers, baby carrots, celery, cherry tomatoes, broccoli, and any other vegetables you want to include.
The vegetables listed above may be high in fiber, antioxidants, and minerals (like calcium). They're also low in calories. Plus, if you fill up on vegetables before your meal, you may be less likely to eat excess calories during the main course.
Pro tip: You can save money by cutting and plating the vegetables yourself, rather than buying a pre-made tray.
6. Collard Greens
Medicare Plan Finder's home office is in Nashville, Tennessee, so naturally we wanted to include a Southern holiday staple on our list of healthy foods for seniors at Thanksgiving.
Our location isn't the only reason we wanted to include collard greens, however. Collard greens and other dark, leafy green vegetables are superfoods with a ton of nutritional benefits for seniors. Collard greens are packed with vitamin K — one cup has about 770 micrograms, which is much, much more than the dietary guideline of 90 micrograms. Vitamin K is great for bone health, because it helps improve calcium absorption.
Collard greens and other cruciferous vegetables may help reduce the risk of certain types of cancer, such as breast cancer, colorectal cancer, and kidney cancer.
7. Cranberries
When we say "cranberries," we don't mean cranberry sauce in can. Canned cranberry sauce has 418 calories and 105 grams of sugar in one cup. Also, many people don't even like the canned stuff according to an Instacart survey.
Use fresh cranberries and make your own sauce at home. You have control of how much sugar you put in the recipe, and you can also reap the many benefits cranberries have. Cranberries have a ton of vitamin C, and they may also help prevent urinary tract infections.
Bonus: How to Use All Those Leftovers
After Thanksgiving is over, you may wonder how you can reuse all of those healthy, delicious leftovers.
Many people know about making turkey sandwiches, but did you know you can use the turkey carcass to make broth for turkey soup? Bone broth has many benefits such as vitamins and minerals, and it may protect your joints from wear and tear. You can even throw leftover celery and carrots from your veggie tray into the pot to make your soup a powerhouse of nutrients.
Cranberry sauce will keep in the refrigerator for several days, and you can serve it chilled or at room temperature.
You can easily reheat sweet potatoes in your oven or the microwave. Note: microwaved sweet potatoes may look brown in the center. It happens because of a chemical called polyphenol oxidase. It's completely normal, and your sweet potatoes are still safe to eat, but they may not look as pretty.
Have a Healthy and Happy Thanksgiving
We hope you incorporate the above foods into your Thanksgiving menu. Not only do they taste great, but you can feel great about eating them. If you want to learn about Medicare Advantage and/or Medicare Supplement plans, we can have one of our highly trained, licensed agents contact you. To arrange a no-cost, no-obligation appointment, call us at 844-431-1832 or contact us here.