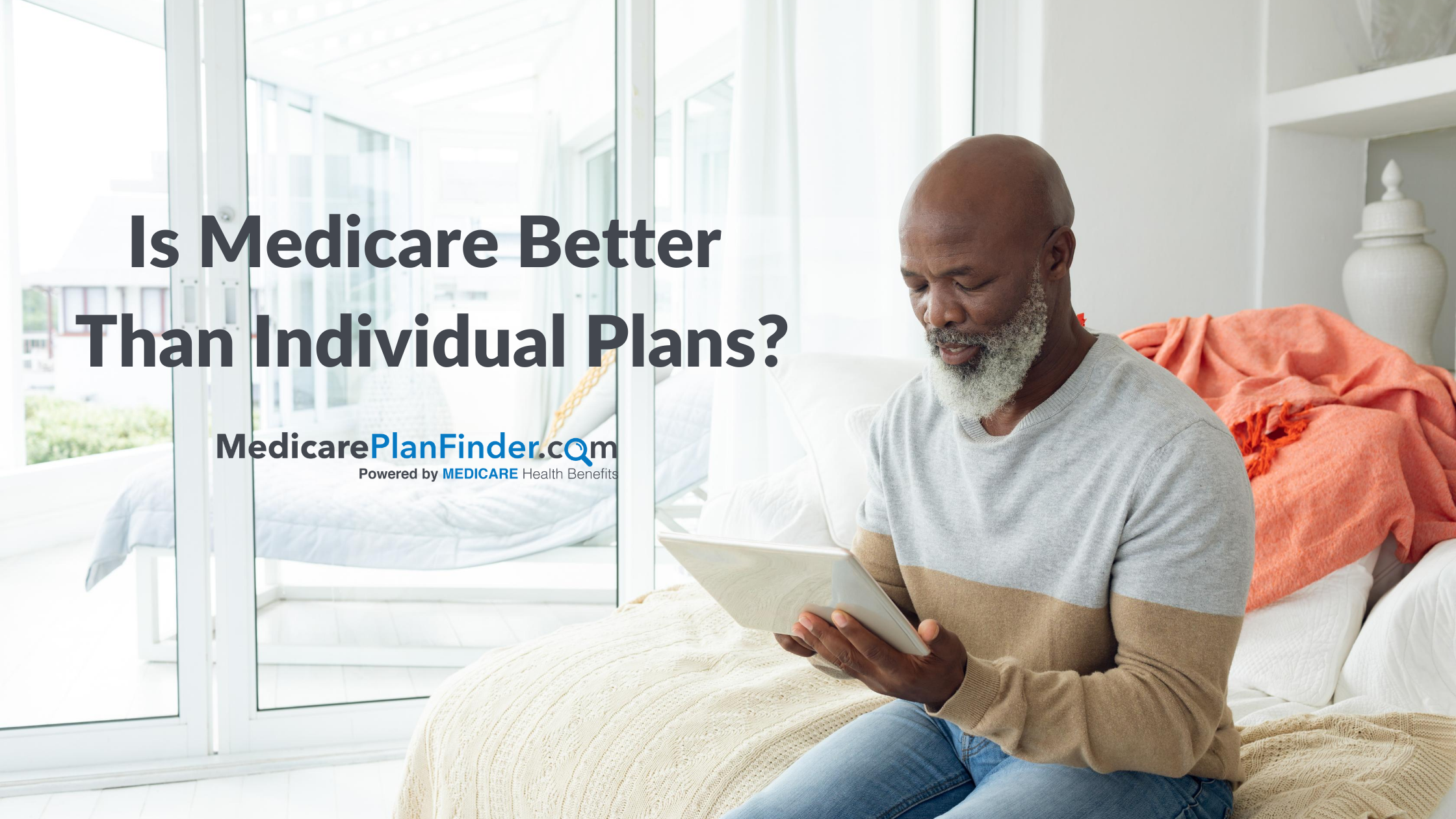 Is Medicare Better Than Individual Plans?
August 6, 2020
Is Medicare Better Than Individual Plans?
One survey about Medicare satisfaction vs. private insurance satisfaction found that people with Medicare were happier with their health plans than people with individual plans. Will you find the same to be true?
Types of Plans
As you turn 65 or otherwise become eligible for Medicare, you probably have a lot of questions. What's going to change? Will I lose or gain new benefits? The good news is that signing up for Medicare does not necessarily mean giving up your plan flexibility or your favorite doctors. There are plenty of Medicare options available, and we'll explain why it's worth it to go ahead and get signed up as soon as you can.
Employer Coverage
You can purchase health insurance through your employer, as long as it meets the coverage limits set by the federal government. If you're retiring but aren't eligible for Medicare yet, you can use COBRA to hold you over. COBRA allows you to continue receiving your employer coverage for a short period of time (but your employer likely won't help you pay for it except for in some unique cases).
You can also technically have Medicare and employer coverage at the same time, if you become eligible for Medicare while you are still employed. That might make sense for some people and not others.
Private Coverage
You can purchase insurance from an exchange like Healthcare.gov, directly from your state, or directly from a health insurance company. Generally, purchasing private insurance is more expensive than employer coverage, and much more expensive than Medicare and Medicaid.
TRICARE/VA Coverage
Veterans and veteran's families may be eligible for free or low-cost healthcare through the Department of Veteran's Affairs (VA). You or your spouse must have served for at least 24 continuous months or teh full length of time that you were called to serve for. You can also qualify if you were honorably discharged. To get TRICARE, you must already be enrolled in Medicare Part A and Medicare Part B. Click here to read more about coverage for veterans.
Medicaid
Medicaid is a federal health program. Each state has slightly different rules and each state has its own funding. The program can cover any person of any age with low income (according to the Federal Poverty Level and with some adjustments in each state). Most Medicaid beneficiaries will have either no or very small premiums. If you have a low monthly income AND are over 65, you may qualify for both Medicaid and Medicare! In that case, you can get what is called a "Dual-Eligible Special Needs Plan," which is low-cost and tailored to your needs.
Medicare
Original Medicare is a federally funded health program that can cover any adult over the age of 65 as well as some adults with disabilities, such as end-stage renal disease.
Most people with Medicare will start with parts A and B. Part A provides hospital coverage, and Medicare Part B provides medical coverage. Anyone who wants more coverage can opt to enroll in either a Medicare Advantage plan or a Medicare Supplement (also called Medigap) plan. Medicare Advantage is sometimes referred to as "Part C" because you have to have Part A and Part B first to enroll in it, and it can cover a lot of services that parts A and B do not.
Unless you enroll in a Medicare Advantage plan that includes prescription drug coverage, you'll want to enroll in a separate drug plan. These plans are referred to as "Medicare Part D," because they are completely separate from the other "parts." Part D plans only cover prescription costs.
Some people may qualify for no or low-cost Medicare coverage, but others will have to pay premiums. Most people will not have to pay nearly as much for Medicare as they would with an individual or private health plan.
You may think that individual plans provide more coverage due to the higher premiums, but that is not always the case. All Medicare plans include preventative services. Plus, you can choose to enroll in Medicare Advantage, which is like a private plan for Medicare. With Medicare Advantage, you can roll all your benefits – medical, dental, vision, prescription drugs, and even fitness – into one convenient plan.
How is Medicare different from other health insurance?
Medicare is vastly different from other health insurance options for a lot of reasons, ranging from the way you pay for your coverage to when you can enroll.
For starters, the Medicare enrollment period is different from the ACA enrollment periods and your employer's enrollment periods. The Medicare Annual Enrollment Period runs from October 15 through December 7, but be sure to not confuse it with the ACA Open Enrollment Period, which runs from November 1 through December 15 of each year.
Another thing that is different is that some people can have their Medicare Part A payments automatically deducted from their Social Security check.
Employer Health Insurance vs. Medicare
It's hard to even compare Medicare vs. employer health plans because the only thing they have in common is that they provide health insurance. If you're turning 65 or otherwise preparing to make the switch from your employer plan to Medicare, you should know the pros and cons of each option.
For starters, Original Medicare is the same for everybody. Technically, there are not separate plans to choose from within the government Medicare program. Once you've enrolled in Original Medicare, you can decide to add coverage through a private Medicare Advantage or Medicare Supplement plan. Some people may see this as a great thing because you can enroll right away without stressing about all your options. Others don't like it, because one plan clearly cannot work for everybody. However, that's what the private plans are for (and many of them are incredibly cheap compared to employer plans – some even have $0 premiums).
The advantage of private health insurance for Medicare (Medicare Advantage or Medicare Supplement) is that you can pick and choose which benefits are most important to you so that you aren't paying for coverage that you don't need. Plus, some people will qualify for Medicare Special Needs Plans which are specifically designed for people with special financial or medical needs and are usually relatively low-cost plans. Private Medicare plans can closely resemble individual marketplace plans or employer plans.
The disadvantages of private health insurance for Medicare-eligible people are that they sometimes have limited doctor networks and that some areas might have a limited number of plans to choose from. Typically, people who live in rural areas may have fewer plan options when it comes to private Medicare coverage.
Medicare vs. Medicaid
Both Medicare and Medicaid are government programs that are regulated by CMS (Centers for Medicare and Medicaid Services). They both provide health insurance for medically necessary services.
The main difference between Medicare and Medicaid is who qualifies. It is possible to qualify for both programs, but Medicaid qualifications are based on income while Medicare qualifications are based on age and disability. Another difference is that while the Medicare qualification rules are federal, Medicaid qualification rules can change slightly by state.
Medicare Versus Spouse Insurance
A lot of people who are newly qualified for Medicare wonder if it might be better to stay on their spouse's insurance plan. The fact is, it depends on how good your spouse's insurance is. However, if you do qualify for Medicare, Part A (the part that covers hospital costs) has a $0 premium for anyone who has worked and paid Medicare taxes for at least ten years. If you haven't worked that long but your spouse has, you might still qualify. If that's the case, there's no reason not to go ahead and enroll in Medicare Part A as soon as you become eligible.
Additionally, if you wait too long to seek out further Medicare coverage, your costs may go up. You can be charged a penalty of up to 10% of your premium if you don't enroll in Medicare Part B when you first become eligible. Plus, Medicare Supplement plans can charge more or deny coverage based on preexisting conditions if you wait too long to enroll. So if you think you might want to enroll in a Medicare Supplement plan, don't wait too long to start looking.
Medicare vs Other Health Insurance: The Benefits
If you are eligible for Medicare coverage but considering alternative health insurance, you should start by learning what Medicare does and does not cover. Medicare Part A and Part B are the same for all who enroll. They cover preventative healthcare, like your annual wellness visits and flu shots at 100%.
Part A also covers 60 consecutive hospital days at 100%. After the 60th day, you'll start to owe co-payments. Part B covers mental health, lab tests and X-rays, emergency transportation, and medical equipment.
Medicare A and B do not include prescription drug coverage, dental, vision, hearing, podiatry, or any service that is not deemed medically necessary either for treatment or prevention. For additional health coverage, millions of Medicare beneficiaries enroll in Medicare Advantage.
Since Medicare Advantage plans are owned by private companies, they can add in benefits like dental, vision, hearing, etc. – any of those extra benefits that you might be accustomed to from having private health insurance. Some Medicare Advantage plans also cover prescriptions. If you want prescription coverage but don't care about all of the extra benefits, you can enroll in a stand-alone prescription drug plan instead. However, you cannot have both a Medicare Advantage plan and a Medicare prescription drug plan at the same time, so choose wisely.
Medicare vs Other Health Insurance: The Costs
The good news about Medicare is that as long as you or your spouse have worked and paid Medicare taxes for a certain number of years, your Part A Medicare costs will be low.
If you or your spouse has worked and paid Medicare taxes for at least 40 quarters, you'll owe $0 in Part A premiums.
If you or your spouse has worked and paid Medicare taxes for 30-39 quarters, you'll owe $252/month in 2020 in Part A premiums.
If you or your spouse has worked and paid Medicare taxes for less than 30 quarters, you'll owe $458/month in 2020 in Part A premiums.
Part B premiums are standard for all Medicare beneficiaries. It can change each year, but the Part B monthly premium in 2020 is $144.60, and the deductible is $198. Most services that Part B covers are covered at 80%, so you may owe 20% coinsurance or doctor co-payments.
If you choose to enroll in a prescription drug plan, a Medicare Advantage plan, or a Medicare Supplement plan, you may face an additional premium.
Medicare vs. Private Insurance Costs
If you're choosing between enrolling in Medicare Part B versus private insurance, remember that delaying your Part B enrollment can leave you with up to a 10% increase in your premium when you do decide to enroll.
If you decide to add on private Medicare insurance through a Medicare Advantage or Medigap plan, remember that you'll still have to pay your Medicare Part A and B monthly premiums (unless you qualify for a savings program such as QMB). You cannot enroll in MEdicare Advantage without enrolling in Medicare parts A and B first.
Medicare Advantage and Medicare Supplement plans are completely separate and therefore come with separate bills. You'll owe a premium (which in some cases can be $0), and you'll likely have a deductible as well as co-payments for certain services.
Many private health insurance plans also have out-of-pocket maximums, which means that if you have a lot of health care costs, you can reach a point where you stop having to pay out-of-pocket for services. Those out-of-pocket expenses can really start to add up even with Medicare if you're someone who needs a lot of medical care!
Why is Medicare cheaper than private insurance?
A lot of new Medicare beneficiaries do find that their Medicare costs are cheaper than what they were paying before they qualified. The biggest reason for that is the way Medicare is funded. While you or your spouse were working hard for all those years, you were paying Medicare taxes. Your low premiums today are because of all that hard work! Plus, the Medicare office does not incur nearly the same amount of administrative costs that many healthcare companies do.
Is it better to have Medicare or private insurance?
Is Medicare a good insurance option? Is private health insurance better? It depends on who you ask. This is a great question to ask an insurance agent who knows what sort of medical expenses you have and what your budget is.
The main difference you have to remember when you're wondering if private insurance or Medicare is better is that private insurance gives you more plan options. To get a private Medicare Advantage plan, you'll have to enroll in Medicare A and B, first. Then, you can choose if you want to personalize your coverage and add benefits by enrolling in additional medical insurance.
If you're stuck between Medicare and keeping your employer plan, remember that you could face penalties if you don't enroll in Medicare when you first become eligible – and nothing says you can't keep both!
Is Medicare or private insurance better for people with dependents?
If you have dependents, Medicare isn't going to help you. But that doesn't mean you shouldn't enroll. Medicare only provides individual coverage – there are no family plans or spouse Medicare plans. However, your Medicare Part A might be free. If that's the case, you might want to consider enrolling in Medicare for yourself first, and then taking a look at options for your dependents.
If you have access to an employer plan, do the math to figure out if it may be more cost-effective for you to have your group vs. individual Medicare Advantage coverage. In some cases, it might even make sense for you to keep both. If your Medicare Advantage premium is low enough, you can keep that for yourself but also hang onto your group coverage for as long as you can to support your family. An insurance agent can help you figure out what's best for you.
Can I drop my employer health insurance and go on Medicare?
If you become eligible for Medicare while still receiving employer health insurance, you can and should still enroll in Medicare to avoid penalty fees.
First, find out if you're currently in one of the Medicare enrollment periods. Medicare open enrollment is different from your employer's open enrollment period.
If you just became eligible, you'll have a few months for your "Initial Enrollment Period." If you're aging into the program, this period begins three months before your 65 birthday and ends three months after. If you've already missed that period, don't panic – you can enroll for the first time from January 1 through March 31 of each year.
Once you're enrolled, the "Annual Enrollment Period," is when you can add or make changes to your Medicare coverage. It runs from October 15 through December 7 of each year. This period is not for enrolling in Medicare for the first time – it's only for adding or making changes to your private Medicare coverage.
According to Medicare.gov, some people will be automatically enrolled in Medicare Part A upon becoming eligible. If you are not automatically enrolled, you can apply for Medicare on the Social Security website.
How Medicare Works with Other Insurance
Millions of Medicare beneficiaries opt to enroll in Medicare Advantage or Medicare Supplements on top of their Medicare coverage. In these cases, the private insurance companies act as the "secondary payers." Health benefits that Medicare does not cover will be automatically billed to the private company, but anything else will go to Medicare first. If you have both employer insurance and Medicare, Medicare might actually be the secondary payer. Check with your employer or your employer's health insurance plan to be sure.
Both Medicare and private insurance coverage will have limitations – so having both is a great way to keep yourself and your families financially covered in case of a medical emergency.
How Medicare Plan Finder Can Help You
We specialize in Medicare and serving the underserved senior and Medicare-eligible population. Do you or a loved one need help selecting a Medicare plan that truly helps? Set up a free appointment with one of our licensed agents in your area to get bias-free assistance. Call us to set it up at 1-844-431-1832.