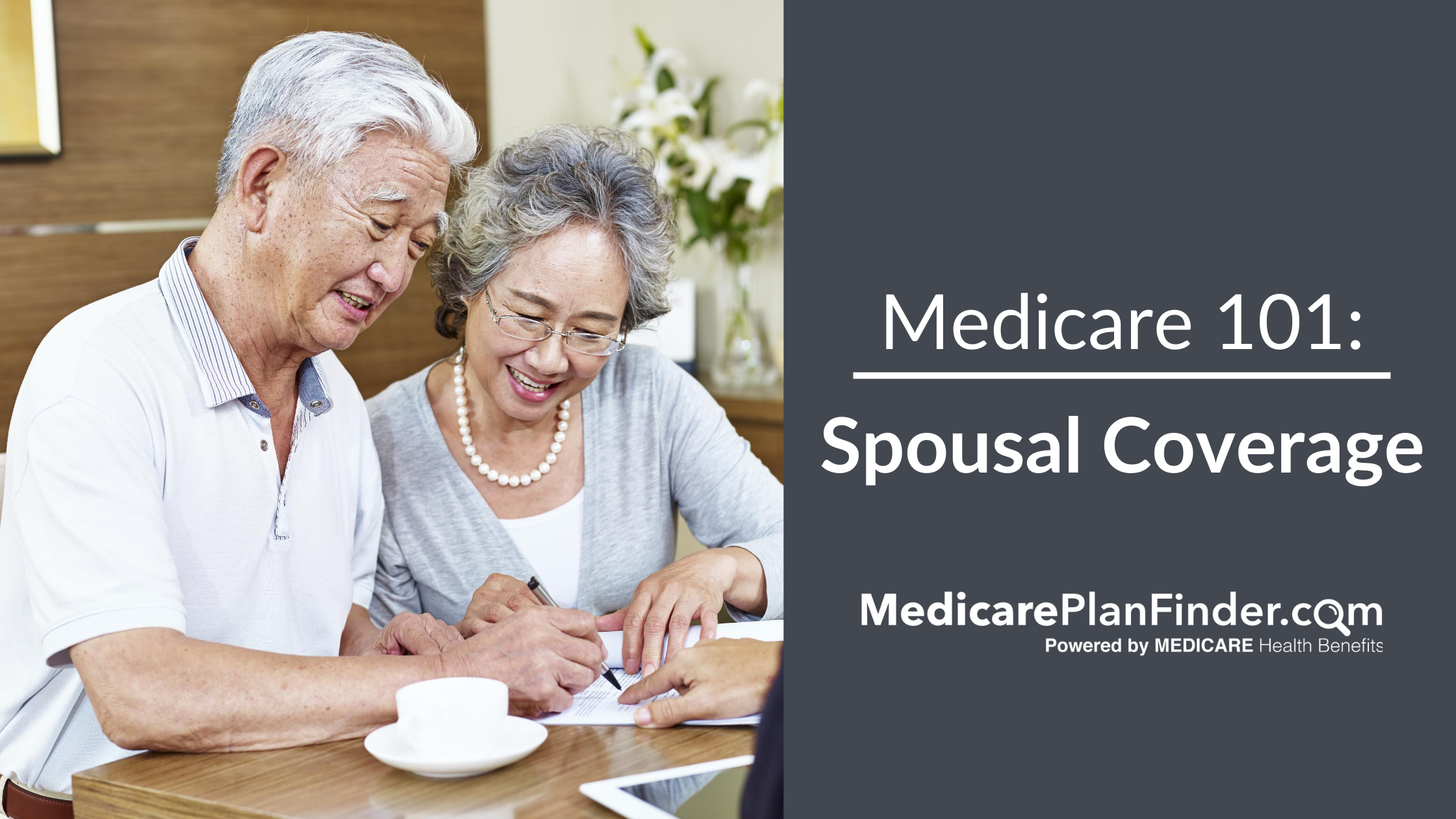 Spouse Medicare 101
August 5, 2020
Spouse Medicare 101
Medicare is different from other forms of insurance in a lot of ways. One of the biggest differences is that there are no family plans in Medicare. All Medicare coverage is individual-based.
However, even though Medicare and marriage are not directly related, your marital status can impact your Medicare costs in a few special ways.
Does Medicare Offer Spouse Coverage?
Medicare does not offer health coverage for spouses. You would have to be eligible on your own to qualify for Medicare – your spouse's eligibility does not affect yours.
According to the rules set in place by the Centers for Medicare & Medicaid Services, marriage can affect your Medicare in the following ways:
Eligibility for Medicare cost savings can change due to your spouse's income
Your Part D (prescription drug plan) premiums can be higher due to your spouse's income
Premium-free Part A eligibility can be determined based on your spouse's work history if they worked more than you.
So, can you get Medicare through your spouse? Not technically, no – but your marital status is not irrelevant.
Medicare if Spouse is Disabled
If one spouse is 65 and begins receiving Medicare and the other is not yet 65, there may be other ways to qualify. If you are diagnosed with ESRD or ALS or if you have been receiving SSDI (Social Security Disability Insurance) for at least two years, you can qualify for Medicare regardless of your age.
The good news is that if you do qualify for Medicare based on a disability, you may also qualify for a Medicare Special Needs Plan at a low cost.
Medicare Eligibility Requirements
The "main" Medicare program is called "Original Medicare." You can qualify for Original Medicare by:
Unlike Medicaid, income does not impact Medicare eligibility. Additionally, unlike ACA plans, pre-existing conditions do not affect your Medicare costs or coverage. The only exception to this is in private Medigap (or Medicare Supplement) plans. If you do not enroll in a Medigap plan when you first become eligible for Medicare, you can be charged more based on your health history. Medigap plans are completely optional and are there for additional financial protection.
You can qualify for additional health and drug coverage through Medicare Advantage plans or Medicare prescription drug plans after you've enrolled in Original Medicare. Those plans cannot charge more based on your age or preexisting conditions.
Spouse Social Security Benefits
Even though the Social Security Administration manages Medicare enrollments, Social Security and Medicare are two vastly different things. There are a few differences in how your marital status affects your benefits.
For Social Security, your benefit is calculated based on your total household income according to your tax returns. That includes both your and your spouse's income. Both you and your spouse can benefit from Social Security, even after one spouse has passed away.
Medicare does not work like that. Your marital status and income do not impact your eligibility, and there are no additional Medicare benefits given to a spouse after a Medicare beneficiary passes.
Medicare & Health Insurance Options for Spouse of a Medicare Recipient
If one spouse is ineligible for Medicare and needs to find a different health plan, don't panic – there are plenty of options for health insurance for the spouse of a Medicare recipient. You might want to start by checking to see if that spouse is eligible for Medicaid based on your total household income. If the answer is no, you'll want to start looking at individual health plans in your area, which you can do through healthcare.gov/.
If the Medicare spouse has insurance through an employer when they become eligible for Medicare, the non-Medicare eligible spouse can also try getting COBRA until they are also eligible for Medicare. COBRA allows an individual, couple, or family to continue health coverage after leaving a job. However, keep in mind that even if you're able to keep your health plan through COBRA, your costs may go up because your employer won't be sponsoring the plan for you anymore.
Can my Wife get Medicare at 62?
To get Medicare, you have to either be 65 or have a qualifying disability.
If your husband or wife is just a few years short of Medicare eligibility, they can select an ACA plan or enroll in a short-term health plan. Short-term medical insurance can be renewed for up to 36 months, so it's a good option if you're within 36 months of becoming eligible for Medicare. Since these plans are designed for such short periods of time, they tend to be a bit cheaper than long-term plans, like the ones offered by your employer or the ACA.
Can a Non-Working Spouse Qualify for Medicare?
People often wonder if Medicare is available for their non-working spouse. In short: yes, as long as they meet the age or disability requirements. However, your spouse's costs may be different from yours. Your employment status does not determine your Medicare eligibility – but it can determine your Medicare costs as such:
If you or your spouse has worked and paid Medicare taxes for at least 40 quarters, you can qualify for premium-free Medicare Part A
If you or your spouse has worked and paid Medicare taxes for 30-39 quarters, you can qualify for a discounted Medicare Part A premium of $252/month in 2020
If you and your spouse have worked and paid Medicare taxes for less than 30 quarters (or have not worked at all), your Medicare Part A premium will be $458/month in 2020
Can my Wife get Medicare if she Never Worked?
Employment and marital status do not impact Medicare eligibility. Even someone who has never worked a day in their life can get Medicare, but their costs may be higher than someone who has been paying Medicare taxes.
Medicare vs. Medicaid
Unlike Medicare, your Medicaid coverage can be impacted by your marital status. While each state has somewhat different regulations, most of Medicaid eligibility is based on the Federal Poverty Line. Your income is calculated using your total household income, which is verified with your tax returns. Both your and your spouse's income are included. That means that even if you qualify for Medicaid based on your income, you won't be eligible if you and your spouse's total income together is higher than your state's limits.
How to Apply for Medicare Through a Spouse
You cannot apply for Medicare through your spouse. You'll have to wait until you are eligible and then apply during your Initial Enrollment Period. If you qualify by turning 65, this period begins three months before your 65th birthday and ends three months after. If you miss that period, you can apply during the Open Enrollment Period from January 1 through March 31. To apply for Medicare online, visit the Social Security website, not medicare.gov.
How do I Apply for Spousal Medicare Benefits?
There are no spousal Medicare benefits – but you can apply for spousal Social Security benefits, here.
What is Not Covered Through Your Spouse's Medicare?
Your spouse's Medicare plan won't provide health coverage for you. If you're looking for Medicare for spouses, you'll have to wait until the other spouse is eligible. Then, you can talk to an agent about finding separate plans that work for both of you and both fit into your household monthly budget.
Medicare Family Coverage
In general, Medicare is not available to non-qualifying spouses or dependants. However, if your child has a qualifying disability, they may be eligible for a Medicare plan of their own. Note that except for in the cases of ALS and ESRD, you will have to receive disability benefits for at least two years before you can enroll in Medicare.
How Does Getting Married Affect Medicare?
Getting married? Congrats! A new marriage often involves complicated discussions about finances, and you might be wondering, "will getting married affect my Medicare benefits?" The good news is that no, marriage does not affect your current Medicare benefits – but it CAN impact your eligibility for Medicare cost savings programs. For example, Medicare Savings Programs and Low-Income Subsidies for Medicare prescription coverage base eligibility on total household income. If your new spouse causes your household income to increase, you could become ineligible for these programs.
If you're not yet 65, you might be wondering, "will I lose my disability Medicare if I get married?" No! Even if you are qualifying for Medicare based on disability and not age, your Medicare coverage won't change based on your marital status.
Medicare Premium Payments: How Much Does Medicare cost for a Married Couple?
How much does a married couple pay for Medicare? Medicare is 100% individual, so each spouse will have to pay their own premium. There are no joint plans with joint costs.
Your Medicare Part A monthly premium will depend on your and your spouse's work history and will range between $0 and $458 per month in 2020. Your Medicare Part B premium will be $144.60 in 2020 (unless you qualify for savings programs or have your premium covered by a Medigap plan). If you have Medicare Part D prescription drug coverage or either a Medicare Supplement or Medicare Advantage plan, you'll pay a separate premium for those plans.
Do Husband and Wife pay Separate Medicare Premiums?
Yes – families and spouses cannot have joint Medicare plans. All premiums will be separate. Some people will have their premiums automatically deducted from their Social Security benefits.
How Your Spouse Might Affect how Much you Pay
Your spouse can reduce your Part A premium amount if they have worked more than you. Additionally, your spouse's income can affect your eligibility for assistance programs such as Medicare Savings Programs, Medicaid, and Medicare Extra Help.
Medicare Plan Spousal Discounts
While Medicare does not provide spousal benefits, there are some plans that offer household discounts for plan premiums. You should always confirm with your agent whether or not a household discount exists as some companies may have specific requirements regarding spousal discounts.
Medicare Extra Help and Income Limits
The one thing that marriage will affect when it comes to Medicare is whether or not you qualify for the Extra Help Program, otherwise known as Low-Income Subsidy (LIS). LIS exists to help people with limited income pay for their prescription drugs. Those who qualify for the program pay less in drug premiums, copayments, and coinsurances.
Single and married beneficiaries have different requirements for what constitutes a low-income level. For example, to qualify for LIS (a prescription drug savings program) in 2020, single beneficiaries must make less than approximately $19,000 per year, but married couples must make less than approximately $26,000 per year.
Meet with one of our agents to find out if you qualify for savings.
Joint Meeting with a Licensed Agent
Even if you and your spouse have different Medicare plans, you can still share an agent! Sharing an agent will make your enrollment process easier and help you build a relationship with someone who knows everything about Medicare plan options and can help you find savings.
Do you have a licensed agent? Have more questions about spouse Medicare? Give us a call today to set up a free meeting. Our agents are licensed to sell several different insurance plans, so they can offer you an unbiased opinion and help you find the plan that truly works best for your needs. Call us at 1-844-431-1832.