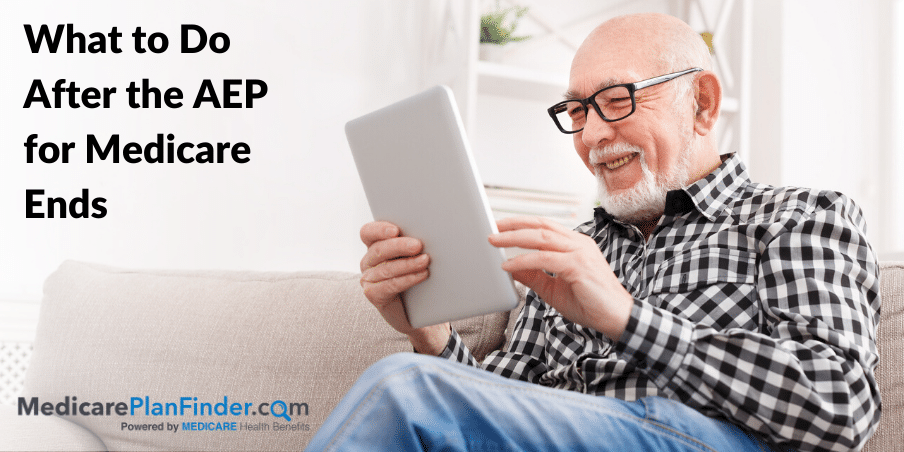 What to Do After the AEP for Medicare Ends
December 9, 2019
The Medicare Annual Enrollment Period (AEP) is a time when many Medicare beneficiaries can change their plans so their coverage best fits their needs.
If you are enrolled in Medicare, you will receive an annual notice of change (ANOC) which explains the changes coming to your current plan for the following year. After reviewing your ANOC, you may decide you need to switch to a new plan.
The AEP for Medicare lasts from October 15th to December 7th, but once it's over and you've enrolled in a new plan, you may wonder what to do next. 
You may wonder if you forgot something important or how you can take advantage of your plan's new benefits. Here's what to do after the Medicare AEP ends:
Review Your Medicare Advantage Plan
If you enrolled in a Medicare Advantage (MA) plan and you decide that it doesn't fit your needs, you can switch to a different Medicare Advantage plan from January 1st to March 31st the following year. This time period is called the Medicare Advantage Open Enrollment Period (OEP).
For example, if you enroll in a Medicare Advantage plan and it turns out that your doctor doesn't take your new insurance, you may be able to enroll in a new policy that your doctor accepts.* Talk to your agent about what plan options your doctor accepts and see if one of them can work for you.
Be sure to review a new plan's deductibles, copays, and/or coinsurance. Your agent can help you determine your out-of-pocket costs and what your out-of-pocket maximum will be.
If you decide that Medicare Advantage (or Part C) isn't for you, you can drop MA and return to Original Medicare (Medicare Part A and Part B) during the OEP. You can also enroll in a Medicare Part D (Prescription Drug) plan and/or a Medicare Supplement (Medigap) plan.
*Medicare Advantage plans are different in every location. We cannot guarantee that your doctor will accept any plans in your area.
Take a Look at Your Medicare Part D Prescription Drug Costs
Original Medicare does not cover most prescription drugs. If you needed Medicare prescription drug coverage during the annual election period for Medicare, you may have either signed up for a Medicare Part D prescription drug plan or a Medicare Advantage plan with prescription coverage.
Some Medicare Advantage plans even cover over-the-counter drugs! Neither Original Medicare nor Medicare Part D cover over-the-counter items. Your agent can help you determine what type of Medicare prescription coverage will work best for you.
Watch your drug costs and make sure that your plan is covering your medications properly. If your insurance company no longer covers one of your prescription drugs, talk to your agent. They can help you file an appeal.
Talk to your doctor before you file an appeal. Find out if there are alternatives that are on your plan's formulary or if there are any less expensive drugs you can take.
You should also get a written explanation (coverage determination) from your prescription drug plan (PDP). The coverage determination document will go over whether a certain drug is covered, the qualifications to get a certain drug, your costs, and if the plan will make an exception to the coverage rules.
You should ask for an exception from your PDP if:
Your doctor prescribes a drug that's not on your plan's formulary
Your healthcare provider prescribes a drug that's on your plan's formulary, but you think you should pay less because no lower-tier drugs work for you
Your PDP will send you a letter with the coverage decision. You can file an appeal with Medicare if you disagree with the decision.
The appeals process has five different levels:
1. Redetermination from your plan: In this level, your plan re-evaluates your request for an exception.
2. Independent Review Entity (IRE) review: This is when a third party reviews your request for an exception, which you can request if your plan denies coverage after the redetermination.
3. Office of Medicare Hearings and Appeals (OMHA) decision: You can file an appeal with OMHA if you disagree with the IRE's decision.
4. Medicare Appeals Council review: If OMHA doesn't make a timely decision or you disagree with it, you can file an appeal with the Medicare Appeals Council.
5. Federal district court judicial review: This level is reserved for cases that meet a minimum dollar amount. You should get instructions on how to file an appeal in federal court with your Medicare Appeals Council letter. 
Evaluate Your Medicare Supplement Plan
The AEP for Medicare is one of the only times of year most people can enroll in a Medicare Advantage plan.* During AEP, schedule a meeting with your agent to talk about your needs. You may determine that a Medigap plan provides all the coverage you need at a price you can afford, or you may determine that a Medicare Advantage plan is a better fit (Reminder: Medigap plans cover Original Medicare costs such as Part B copayments).
Medicare Advantage plans cover additional benefits that can include fitness classes, hearing, dental, and vision coverage. Your monthly premium may be lower with a MA plan, but your provider network may be smaller.
You must choose a Medigap plan or a Medicare Advantage plan. You cannot have both at the same time.
Use the Open Enrollment Period that starts on January 1 if you need to cancel your Medicare Advantage coverage and you want to return to your Medicare Supplement plan. For example, let's say your doctor accepts Original Medicare, but they don't accept any Medicare Advantage plans in your area.
You may want to enroll in a Medicare Supplement plan if you want coverage for copays and coinsurance. You may be responsible for paying Original Medicare coinsurance if you don't have a Medigap plan that covers it.
*Exceptions may be Special Enrollment Periods (SEPs) and Initial Enrollment Periods (IEPs) for people who qualify.
Medigap plans cover different items than Medicare Advantage plans. While MA plans cover additional health benefits, Medicare Supplements cover financial items such as coinsurance and copays.
You can enroll in a Medicare Supplement plan at any time of year, so the time after AEP is a great time to learn about Medigap. Remember — most people can drop Medicare Advantage coverage only during AEP and OEP. You can only get a Medicare Supplement plan if you don't already have a Medicare Advantage plan.
*Not all plans will be available in your service area or make sense for you.
Meet With Your Agent to Discuss Ancillary Products
Many health insurance agents also sell ancillary products such as life and final expense insurance. The beginning of the year is a great time to contact your agent because they might have more time for you than during the busy AEP for Medicare.
Schedule an appointment to talk about your retirement plan and how you can help your loved ones after you pass away. Write down a list of your long-term goals, financial risks, and plans for your 401(k) or other retirement accounts. The beginning of the year is a great time to create a solid plan for your financial future.
Let Us Help During OEP and Every Other Time of Year
If you have questions about your Medicare coverage, one of our highly-trained, licensed agents can help. An agent may be able to help you find a plan in your area that suits your budget and lifestyle needs. Whether it's AEP or you're enrolling in Medicare for the first time, let us help. Call 1-844-431-1832 or contact us here to arrange a no-cost, no-obligation appointment today.