Medicare Inpatient vs. Outpatient: Why It's Important to Know the Difference
January 2, 2020
Do you know the differences between inpatients and outpatients? The lines can get blurry, but the differences are important for your Medicare plan. Your classification as an inpatient or outpatient determines the coverage you get from Medicare.
Medicare Inpatient vs. Outpatient Coverage
In some cases, an overnight hospital stay does not automatically make you an inpatient. It is easy to assume that you are an "admitted" patient and receiving inpatient services if you are brought to a private or semi-private room, but that may not be the case. You may just be under observation and considered an outpatient.
If you're getting emergency care, same-day surgery, x-rays, or lab tests, you may be under observation if you stay overnight. You aren't considered an inpatient until a doctor admits you to the hospital.
Original Medicare Coverage for Inpatient and Outpatient Stays
You may notice that your Medicare card has two different dates for starting coverage: one for Part A, and one for Part B.
Medicare Part A is hospital insurance. Covered services include:
Medicare Part B is medical insurance. Part B covers medically necessary and preventive services such as:
Difference Between Medicare Observation Status and Admission Status
For inpatient classification, a doctor has to purposely keep you at the hospital overnight and then formally admit you as such. Once you're admitted, you have "admission status."
A doctor may keep you for several hours under observation before deciding to admit you. During those hours, you have "observation status," and you're considered an outpatient. Any approved services during that time will be covered under your Part B.
Medicare Part A covers inpatient hospital stays, but Part B covers outpatient stays. If you need more care after leaving the hospital, you must have been an inpatient for at least three days for Medicare to cover a skilled nursing facility.
How much does Medicare hospital coverage cost?
Generally, as an inpatient you'll only need to pay a one-time Medicare Part A deductible, then you're covered for 60 hospital days. The Part A deductible is $1,408 in 2020.
You will owe $352 per day from days 61 to 90 in 2020. You will owe $704 per day for each additional day after day 90, provided you have lifetime reserve days. You must be out of the hospital for 60 consecutive days before your hospital coverage "renews." According to the Medicare Rights Center, you get 60 lifetime reserve days, and once you run out, you are responsible for paying the full amount of your hospital expenses.
With Medicare Part B, you may need to pay 20 percent of the approved doctor services you receive in relation to that hospital inpatient stay. For outpatient services, you'll pay a copayment or coinsurance for all services you receive. The rest is covered by Part B.
Medicare Prescription Drug Coverage
In most cases, prescription drugs that are part of your hospital visit will not be covered under your Part A or Part B. Medicare may cover prescription drugs as part of procedures, like anesthesia for knee replacement surgery, for example.
For the most part, you'll need either a standalone Medicare Part D (prescription drug plan) or a Medicare Advantage plan if you want coverage for prescription drugs.
Medigap & Medicare Advantage Inpatient and Outpatient Benefits
Medigap (Medicare Supplement) plans are private insurance plans that cover the same services as Original Medicare. Your monthly premium covers financial items such as coinsurance and copays.
In 2020, there are eight different "letters" of Medicare Supplement plan. Each letter offers a different level of benefits. For example, Plan A covers Part A coinsurance and hospital costs, Part B coinsurance and copayments, blood work copays up to three pints, and hospice coinsurance and copayments.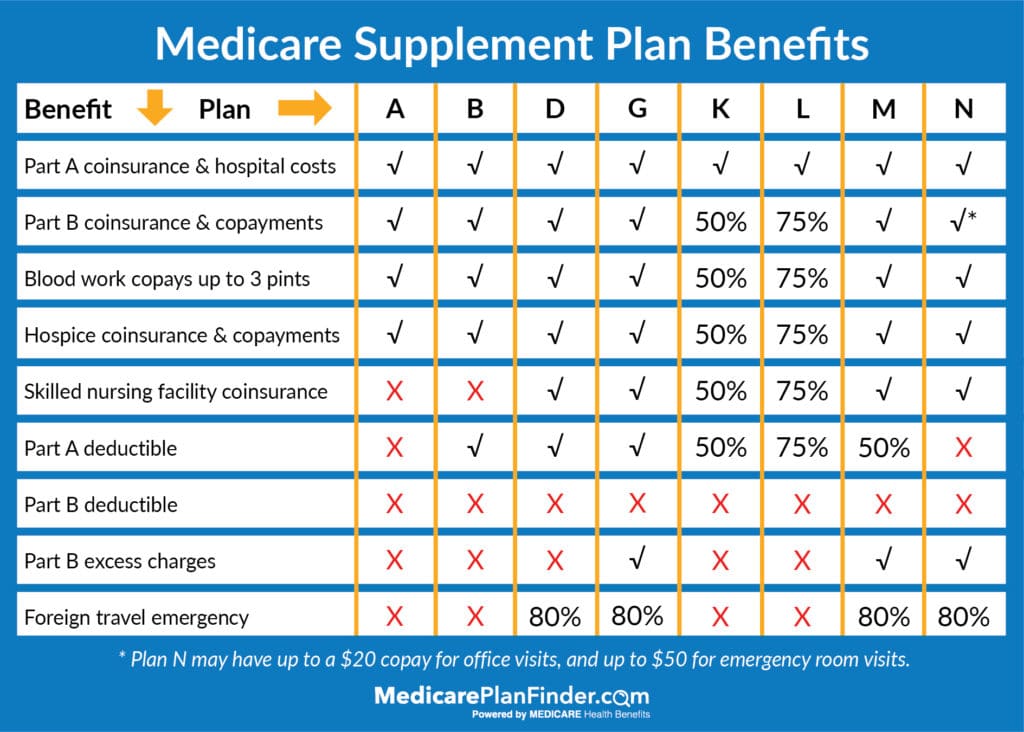 Medicare Advantage plans are different. It's important to know the distinction between the two because you cannot have both a Medigap plan and a Medicare Advantage plan.
Medicare Supplement plans only cover financial items, but Medicare Advantage plans can cover additional healthcare benefits such as meal delivery, non-emergency medical transportation, and even fitness classes! Medicare Advantage plans can also cover additional home health care services.
Get the Medicare Coverage You Need
The difference between Medicare inpatient and outpatient care may seem confusing. A licensed agent with Medicare Plan Finder may be able to help you find the right plan to cover your needs.
Our agents are highly trained and they can assess your needs and see if plans in your area can meet them. If you have questions and would like to speak to one of our licensed agents, please call 1-844-431-1832 or contact us here to arrange a no-cost, no-obligation appointment today.
This post was originally published on July 13, 2017, by Anastasia Iliou. The latest update was on January 2, 2020, by Troy Frink.