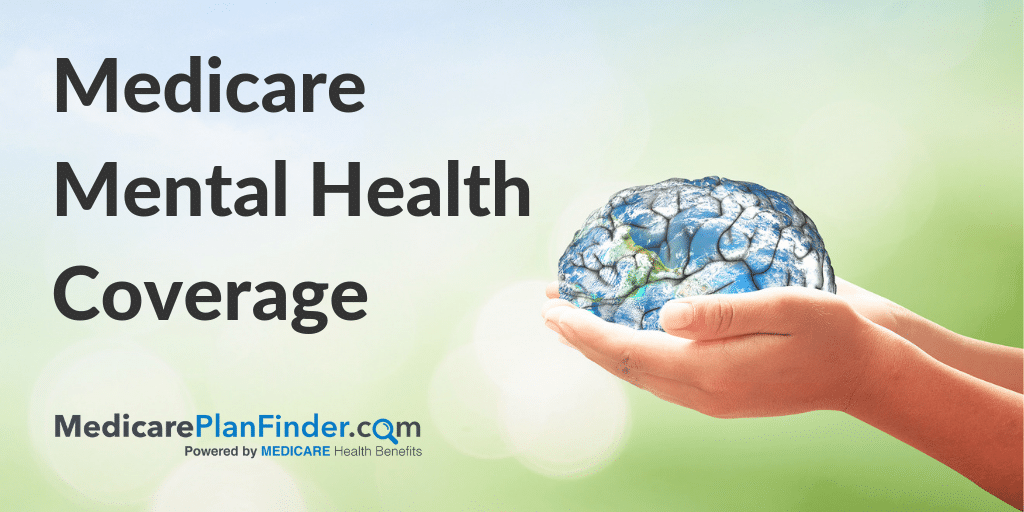 Guide to Medicare Mental Health Coverage
August 9, 2019
Mental illnesses, even though you can't always see them, are just as real and treatable as physical diseases. Depression and anxiety can affect you physically in the same way that an illness can. In fact, depression IS an illness.
It can cause extreme fatigue and lethargy to the point where getting out of bed seems impossible. It can also lead to oversleeping or insomnia, as well as overeating or starving. It's important to take care of your mental health just as you would your physical health.
Does Medicare Cover Mental Health?
Seniors and Medicare eligibles may have an increased risk of developing depression for both physical and mental reasons. Weakened immune systems and other ailments make the brain more susceptible to mental illnesses, which are most often the result of a chemical imbalance in the brain.
The anti-socialization that retirement can bring can easily affect one's mood and lead to depression. Managing your mental health can relieve stress, improve memory, help you sleep better, and boost your overall mood.
With those circumstances in mind, you may wonder, "Does Medicare cover mental health?" Yes, but only under certain conditions.
Medicare Mental Health Benefits for Inpatient Care
Medicare Part A covers mental health services that you receive in an inpatient hospital setting. The out-of-pocket costs are the same regardless if you receive treatment in a general or psychiatric hospital.
You can only receive coverage in a psychiatric hospital for 190 days per your lifetime. If you are already hospitalized when you enroll in Medicare, you can be reimbursed for up to 150 hospital days.
Part A hospital coverage is broken into 60-day periods. First, you must pay your deductible, which is $1,408 in 2020, but after this is met, your first 60 days are completely covered.
If you are still in the hospital after 60 days, you will need to pay $352/day for days 61-90, and $704/day for days 91-150. Your Part A coverage will end after this time. However, once you have been out of the hospital for 60 days, your "day count" resets to 0 and this cycle can start over.
Medicare Outpatient Mental Health Coverage
Medicare Part B covers all doctor visits related to mental health. That means any psychiatrists, psychologists, social workers, nurses, therapists, and addiction center visits are covered by your Medicare.
Counseling or therapy sessions are slightly more limited because they are only covered under Medicare if you see a doctor who accepts Medicare assignment. More specifically, this includes:
Individual and group therapy
Substance use disorder treatment
Occupational therapy
Active therapy (art, dance, music therapy)
Family counseling
Lab tests
Annual depression screening
Prescription drugs you cannot administer yourself
Original Medicare will cover these services at 80% of the Medicare-approved amount. This means you will likely pay 20% coinsurance after you meet your Part B deductible. However, keep in mind that your provider must take Medicare assignment, otherwise, Medicare will not pay for the services.
How to Find a Medicare Therapist
Psychology Today has a tool that can help you find a local therapist who takes Medicare. To get started, click here. Then enter your zip code. We used 37209, which is the zip code for our corporate offices in Nashville, Tennessee.
That will lead you to a page that lists the therapists in your area. From there, you can further filter your search results by therapist specialties and the qualities that matter most to you, such as gender, age, and faith.
Medicare Mental Health Costs
Medicare mental health costs will vary based on your unique situation and personal needs. Treatment can range as low as $1,000 or as high as $9,000. Thankfully, Part D, Medicare Supplements, and Medicare Advantage plans can help lower your out-of-pocket costs.
Mental Health and Part D
Original Medicare does not cover prescription drugs. A Part D prescription drug plan is a great alternative to help cover the costs of any antidepressants or other health-related drugs.
Part D plans have an annual deductible of $435 for 2020. This means that every year, you will need to spend $435 before your coverage starts. Since Part D plans are sold by private insurance companies, each plan may be a little different. Some plans may waive, reduce, or charge the deductible up front.
Once you've reached your Part D deductible, you will enter the initial coverage phase. You'll stay in this phase until you spend $3,820 in 2019. During this time, you will need to pay a copay for every prescription based on the plan's drug formulary (list of drugs that are covered).
Drug formularies are organized by tiers according to co-payments. For example, a generic, tier-one antidepressant may only cost you $32, whereas a tier three, brand-name antidepressant can cost you $133.
Any drug labeled as "preferred" will be cheaper. Plus, you may be eligible for extra prescription drug cost savings through Medicare Extra Help. To learn more, or to schedule an appointment to discuss the best Part D plans in your area, fill out this form, or give us a call at 844-431-1832.
Mental Health and Medicare Supplements
Medicare Supplement plans can add financial benefits and help you save in the long run on mental health coverage and other health-related costs. These plans help pay for things like copayments, coinsurance, and deductibles.
There are ten different plan types (A, B, C, D, F, G, K, L, M, N) and each plan offers different coverage and pricing. Your best bet is to speak with a licensed agent. If you're interested in arranging a no-cost, no-obligation appointment, fill out this form or give us a call at 844-431-1832.
Mental Health and Medicare Advantage
Medicare Advantage plans must cover, at a minimum, the same as Original Medicare. However, they generally often several more benefits such as prescription drug coverage, hearing, dental, or vision coverage, OTC pharmacy allowance, non-emergency transportation, and group fitness classes like SilverSneakers®.
A licensed agent can help you find the best plan at the best rate that is specific to your needs and budget. Fill out this form or give us a call at 844-431-1832 to get in contact with a licensed agent.

Improving Your Mental Health With Medicare
Did you know that stress and depression can weaken your immune system? Your mental health affects you physically as well as emotionally. Thankfully, Medicare provides benefits that can serve as "mood boosters" to help keep you both physically and emotionally healthy. Learn how emotions affect the body and how you can stay healthy.
Depression is all-too-common among seniors and Medicare eligibles, and it can often come from the stress of aging or physical health conditions. The feeling of stress is triggered by the release of the hormone cortisol, which slows down motivation and metabolism.
This means that stress can cause you to not only lose the motivation to eat healthily and exercise, but also lose the metabolism to break down fatty foods, ultimately leading to unhealthy weight gain. Aside from weight gain, the influx of cortisol can inflame the immune system, weakening it and making it easier for you to catch infections and get sick.
On the same side of the token, a positive mood will allow you to heal more quickly. If you take a positive attitude with your illness or injury, your immune system will stay stronger and you'll have less cortisol holding you down.
Medicare Mood Boosters
What makes you happy? All the little small things that you enjoy can help you heal emotionally and physically, as the two are connected. Consider starting with your senses – do you have a scent that makes you happy? Light a candle or spray a fragrance. Do you have a sound that makes you happy? Play some music.
A lot of people find that physical activity is a great mood booster. Medicare's SilverSneakers® program promotes healthy social and physical behaviors for people like you. The program revolves around group exercise programs hosted within gyms and YMCAs including activities like strength, flexibility, walking, and yoga classes.
The group setting gives you an opportunity to socialize with other seniors in your area, and the activities will help strengthen your physical health.
If SilverSneakers® is a benefit included in your Medicare plan, you should receive a list of participating facilities. Then, all you'll need to do is bring your SilverSneakers® card with its 16-digit member number to the facility.
Get Medicare Mental Health Benefits
To enroll in a Medicare Advantage plan or to find answers to any questions you have about your mental health coverage, click here or call 844-431-1832.
---
This blog was originally published on May 18, 2017, by Anastasia Iliou, and was updated on August 9, 2019, by Troy Frink.