7 Important Things You Never Knew About Medicare
January 3, 2020
What is Medicare? Most people are familiar with short answer: Medicare is a federal health insurance program that covers people over the age of 65, people with certain disabilities, or those who suffer from either ESRD (end-stage renal disease) or ALS (Lou Gehrig's Disease).
While this is probably the easiest way to explain Medicare, most people don't know how complicated it can be once you dive below the surface. Here we've broken down the 7 most important facts about Medicare that you may have never heard before!
1. There are multiple parts of Medicare
Perhaps the biggest misconception about Medicare is that it's one gigantic program. In truth, what we refer to as Medicare actually has four distinct components, or "parts." You might hear some different names used but usually these parts will be designated as A, B, C, or D.
The Original Medicare program consists of Part A and Part B. Part A primarily covers inpatient hospital care, while Part B handles outpatient services like doctor visits. These two components of Original Medicare represent the basic coverage that is available to you when you turn 65.
Part C, often called Medicare Advantage plans, are offered by private health insurance companies. These allow recipients of parts A and B to also receive benefits like dental, vision, and prescription drug coverage depending on the plan they choose.
Part D, sometimes called a prescription drug plan (PDP), offers prescription drug coverage to beneficiaries enrolled in Medicare. These are offered by private insurance companies as an addition to the Original Medicare benefits, as Original Medicare does not include any drug coverage.
To see these different Medicare plans explained in even more detail, check out our more in-depth blog here on finding the best types of Medicare plans for you in 2020!
2. You can't enroll whenever you want
Unfortunately, Medicare is not a program you can just enroll in at any time. It's true that you are eligible for Medicare when you turn 65, but unless you qualify for automatic enrollment, you will need to sign up during one of the five designated enrollment periods.
The Initial Enrollment Period (IEP) is usually your primary opportunity for Medicare enrollment. If you are aging into the program, this IEP begins three months before your 65th birthday and extends to three months after, giving you seven months in total to enroll.
There is actually a second IEP, sometimes called IEP2, available for those who are eligible for Medicare before they turn 65, such as those with disabilities. This period also lasts seven months and gives these beneficiaries an opportunity to make changes to their plan.
The General Enrollment Period (GEP) is offered for first-time Medicare enrollees who did not join during their IEP. This period occurs every year from January 1 to March 31. Coverage applied for during this period begins on July 1st.
The AEP, or Annual Enrollment Period, starts every October 15 and runs until December 7. This period provides an opportunity for those already enrolled in Medicare to make changes to their coverage, such as adding a Part D plan or converting your Original Medicare to a Medicare Advantage plan.
Special Enrollment Periods (SEPs) allow Medicare beneficiaries to make changes to their coverage outside of AEP. During these periods, people who are enrolled in a Special Needs Plan or who have recently lost a job can add to or switch their coverage. Check out the handy graphic below to see if you qualify for one of these SEPs.
In 2019, a new enrollment period was introduced, called the Open Enrollment Period, or OEP. This period lasts from January 1 to March 30, and lets those who enrolled in Medicare Advantage during AEP make changes in their coverage without having to wait for the next AEP.
3. You may have to pay if you delay
If you do miss your IEP, you may have to pay penalties when you finally do enroll. The amount you will pay and the duration you will have to pay depends on which part of Medicare you enroll in and how long you waited.
The Part A penalty is incurred if you do not qualify for free, automatic enrollment and you fail to sign up for it when you are eligible. This penalty will be added to your premium to the tune of 10%, which you will have to pay for twice the number of years that you neglected to sign up.
If you enroll late in Part B, your premium will go up by about 10% for every year you were eligible but didn't sign up. You will then have to pay this increased premium for the entire time you have Medicare Part B. You may also have to pay a penalty if you do not enroll in a Part D plan within the first three months that your Parts A & B are active. However, some of these penalties may be avoided if you qualify for a Special Enrollment Period.
4. Original Medicare only covers 80%
Once you are finally enrolled, you might wonder: "How much does Medicare cover?" The unfortunate truth is that it will not fully cover your medical expenses. Parts A & B will only cover up to 80% of the cost of Medicare-covered services, leaving you to pay the remaining 20% coinsurance.
This might not be too much trouble for routine doctor visits, but in the case of a medical emergency or hospital stay, the amount you pay out-of-pocket can skyrocket quickly. To cover that last 20%, consider purchasing a Medicare Supplement plan to add on to your Original Medicare coverage.
5. Original Medicare doesn't cover dental, hearing, or vision
Many people might not realize that Medicare covers very little in the way of dental and hearing expenses, and virtually nothing when it comes to vision. Part A will sometimes pay for specific dental services if you have to get them while you are staying in a hospital, but will not pay for cleanings, fillings, dentures etc.
Medicare will sometimes cover diagnostic hearing exams if your physician orders it as part of their treatment, but will not cover hearing aids under any circumstances. For vision coverage, your options with Original Medicare are even more limited, as it will not pay for eye exams, glasses, or contact lenses.
There are some options that can provide vision, hearing, and dental coverage for seniors. A DVH (or Dental, Vision, Hearing) plan can be purchased to add to your Original Medicare benefits, or you might look to a Medicare Advantage policy to consolidate all of that coverage into one plan.
If you think Part C might be the best coverage option for you, click here or give us a call at 844-431-1832 to have a licensed agent help you compare Medicare Advantage plans!
6. Original Medicare will not cover you abroad
Aside from a few very specific circumstances, Medicare Parts A and B will not cover your health care while you are traveling outside the United States. Medicare Part D plans are also invalid once you are more than 6 hours away from a U.S. port.
But there are some Medicare coverage options available for foreign travel, primarily in the form of Medicare Supplement (Medigap) plans.
7. Supplement plans have the same coverage, different cost
Medicare Supplement, or Medigap, insurance can be used to cover the out-of-pocket costs you may have to pay with Parts A and B. Insurance carriers offer many different types of Medigap plans, often sorted alphabetically, but they all must follow the same government regulations.
This means that Plan F from one carrier must provide the same benefits as Plan F from another carrier. Below is a quick breakdown of all the benefits covered by the different Medigap plan types.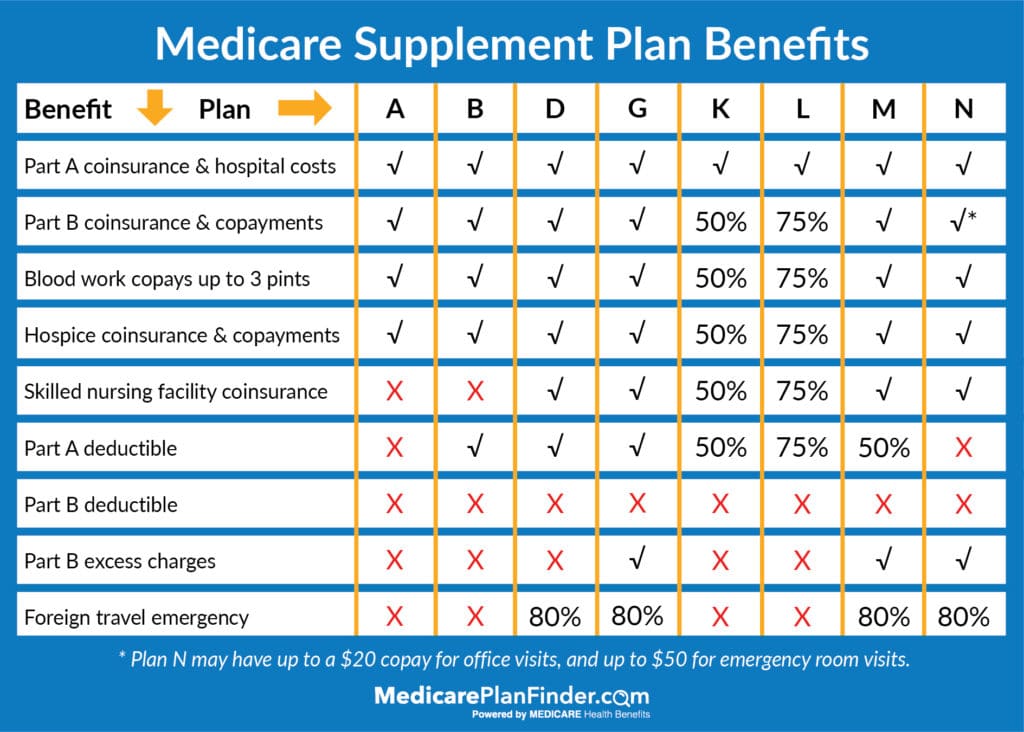 Once you have found a Medigap plan type that meets your needs, you must consider the price. Insurance carriers must cover what is mandated by the government guidelines, but may charge very different rates for that coverage.
To find the best price, reach out to one of our licensed agents here or at 844-431-1832 to have them run a personalized quote, or use our Medicare Plan Finder Tool to compare all the plans offered in your state and county!