Does Medicare Cover Hospice Care?
November 18, 2019
More than 1.7 million Americans use hospice each year to maintain or improve their quality of life due to a terminal illness. Hospice care plans address physical, emotional, and spiritual pain and offer support to caregivers during the grieving process.
Hospice decisions can take an emotional and financial toll on you and your family, so you may be asking… "Does Medicare cover hospice?"
How does Medicare cover hospice care?
If you are enrolled in Medicare Part A (hospital insurance), you may qualify for hospice care. However, you must meet the following criteria:
Your doctor certifies that you are terminally ill (with a life expectancy of less than 6 months)
You accept palliative care (for comfort) rather than try to cure your condition
You sign an agreement choosing hospice care over other Medicare-covered benefits to treat your illness
You are not eligible if you had already made a hospice election or have not previously received pre-election hospice services (evaluation of your need for pain and symptom management).
If you meet the above criteria, the following services may be part of your hospice care plan and are covered in part by Medicare:
Doctor services
Nursing care
Medical supplies
Prescription drugs for pain control or relief
Nutritional counseling
Physical and occupational therapy
Hospice aide and home services
Short-term inpatient respite care
Short-term inpatient care for pain management
Counseling for families
Other services focused on pain and symptom management
There may be a co-payment of $5 for your prescription drugs or other pain relief. You may also need to pay five percent of the Medicare-approved amount for respite care. However, the following services are not covered by Medicare:
Hospice is intended for people who have six months or less to live. To receive hospice care, you can not receive curative treatment.
If you decide to receive treatment, your hospice care is no longer covered. However, you can withdraw from your hospice care at any given point, and you can resume treatment as long as you are still eligible.
Prescription Drugs Intended to Cure
Just like you can't pursue curative treatment, you can not take prescription drugs that are intended to cure your illness when receiving hospice care. Hospice only covers drugs that are intended for pain relief and control.
Care for Any Hospice Provider That Wasn't Arranged by the Hospice Team
You are only eligible to receive care from the hospice team that you initially select.
You cannot get hospice coverage from a different provider unless you go through the switching process. However, you can still visit your regular doctor if they have been appointed to supervise your hospice care plan.
You can only switch to a different hospice provider once per benefit period. If you are interested in switching, be sure to do your research and pick a hospice team you feel comfortable with.
Does Medicare cover hospice room and board?
Medicare does not cover room and board regardless if you live at home, in a nursing home or inpatient assisted living facility, or inpatient hospice office. The only exception is during short-term inpatient or respite care stays in which Medicare will help cover the costs.
Emergency Care
Emergency transportation is not covered by Medicare's hospice benefits. Medicare will not cover emergency inpatient hospital care unless they are arranged by your hospice team or unrelated to your terminal illness.
Does Medicare cover hospice in a nursing home or at home?
If you are eligible, Medicare will cover hospice care regardless if you receive the care in your home, nursing home, or inpatient facility. Some nursing homes work directly with a hospice team. In a nursing home setting, your hospice team can help with the following:
Regular visits to the nursing home
Consultations by specialized hospice physician as needed
Pain and medication management
Educating staff on symptoms, medications, and care
Emotional and spiritual support
Coordinating care across all patient's medical providers including doctors, hospice team, and nursing home staff
How long will Medicare pay for hospice care?
Hospice care is intended for people who have less than an estimated six months to live. If you still require hospice care after six months, you can continue to receive benefits if a hospice doctor recertifies your terminal illness in a face-to-face meeting.
You can get hospice care for two 90-day benefit periods followed by an unlimited number of 60-day benefit periods.
Four Levels of Medicare Hospice Care
Medicare separates hospice care needs into four different levels:
Level One: This level includes basic care under Medicare's hospice benefit. Services include nursing services, medical equipment & supplies, and medications.
Level Two: Medicare designates people who need continuous care such as home health care. The home health aide stays in the patient's home for eight to 24 hours a day, but it's short-term care. The patient's needs are re-evaluated once every 24 hours.
Level Three: The third level of Medicare hospice coverage is general inpatient care. Some people have short-term symptoms that are so severe that they can't get adequate treatment at home. With level three care, the patient has 24-hour care available.
Level Four: This level of care is more for the family than the patient. If the patient doesn't meet the criteria for inpatient care and the family needs a break from daily care duties, respite care may be an option. Respite care provides caregivers temporary relief by admitting the patient to a hospital.
Medicare Palliative Care vs. Medicare Hospice Care Coverage
Medicare can cover palliative care for helping relieve symptoms in accordance with curative care. Some organizations define palliative care as "specialized medical care for people living with a serious illness" with the focus of care being symptom relief rather than to find a cure.
The difference between palliative care and hospice care is that palliative care can occur in conjunction with curative care.
Medicare may cover palliative care, but not under the Medicare hospice benefit.
Hospice and Medicare Supplements
Medicare Supplements can help cover the gaps in hospice care that Original Medicare may not, like prescription drugs for pain relief and respite care. After your Medicare coverage, you will likely be responsible for five percent of your total respite care costs and a $5 copay per prescription drug. Medicare Supplements can cover some, or all, of these gaps.
Medicare Supplement Plans A, B, D, G, M, N cover 100 percent of hospice coinsurance and copayments. Medigap Plan K covers 50 percent and Plan L covers 75 percent.
If you are interested in enrolling in a Medicare Supplement plan, or have questions on how these plans work with your correct coverage, click here to get in contact with a licensed agent.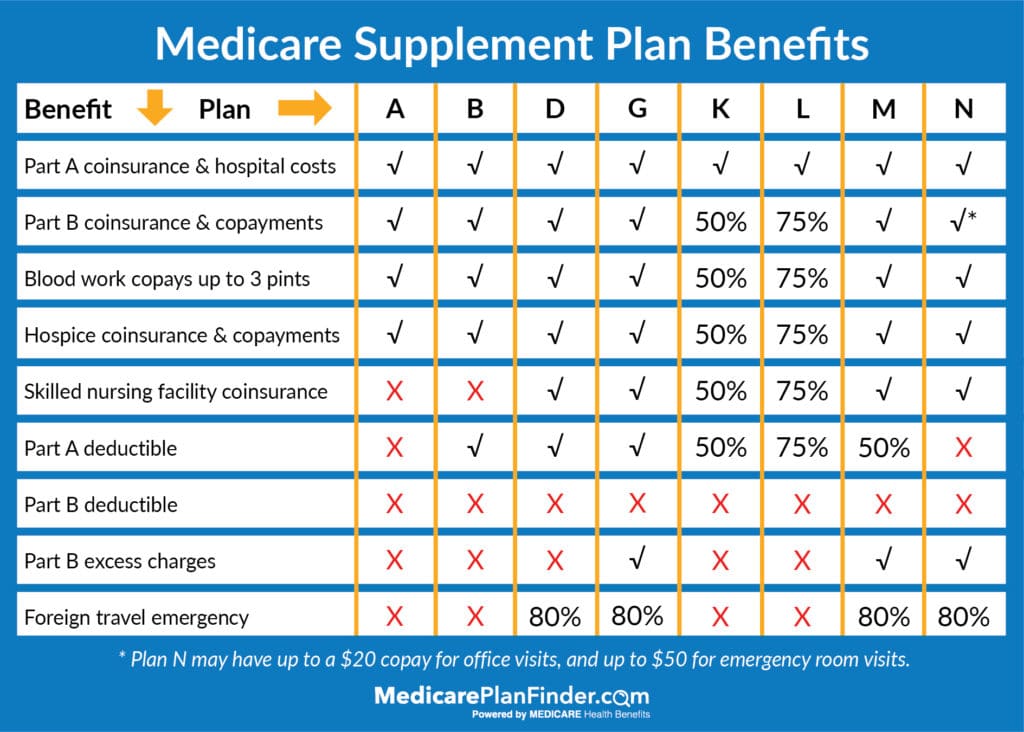 Hospice and Medicare Advantage
If you enroll in a Medicare Advantage plan, you will have the same hospice care coverage as with Original Medicare. However, Medicare Advantage plans can offer extra benefits like vision, hearing, and dental coverage. They may also offer fitness programs like SilverSneakers®.
If you are interested in enrolling in a Medicare Advantage plan, fill out this form, or give us a call at 844-431-1832. There is no cost to you to meet with one of our agents and there is never an obligation to enroll.
This post was originally published on April 16, 2019, and updated on November 18, 2019.