Medicare Advantage vs. Medicare Supplement
August 29, 2019
Medicare Advantage and Medicare Supplements (also called Medigap) are very different insurance plans with distinct benefits. The answer to the question "is Medicare Advantage better than Medigap?" depends on your circumstances and needs.
What is Medicare Advantage?
Medicare Advantage plans are private plans (not owned by the federal government) that can offer additional health benefits. To have Medicare Advantage, you have to enroll in Original Medicare first. You may have to continue to pay your Medicare Part B premium even if you have Medicare Advantage (MA), but MA premiums can be as little as $0.
Medicare Advantage plans are not all the same, but they can provide benefits like (click on the links to learn more about each one):
There are many different types of Medicare Advantage plans, although not every plan type may be available in your area.
A health maintenance organization (HMO) is a network of health-care providers and facilities where you choose a primary care physician to coordinate your care.
A preferred provider organization (PPO) is also a network of health-care providers and facilities but typically you do not need to select a primary care physician, and you have more flexible options regarding out-of-network care.
A private fee-for-service (PFFS) plan is a mode of benefit delivery where you are not limited to a network. However, there are no guarantees that your doctor or hospital will accept the plan. If you choose to receive your Medicare health coverage through a private Medicare Advantage plan, you must continue paying your Part B premium regardless, because you remain enrolled in Original Medicare (Part A and Part B), even after joining a Part C plan.
What is Medigap?
Medigap is more different from Medicare Advantage than you might think. While Medicare Advantage plans are able to offer health benefits, Medicare Supplement plans (also called Medigap) offer financial benefits. For example, some Medigap plans can cover your Part B premium.
The chart below explains the differences between available Medigap plans in 2020. You can also use our Medicare Plan Finder search tool to compare plans in your area.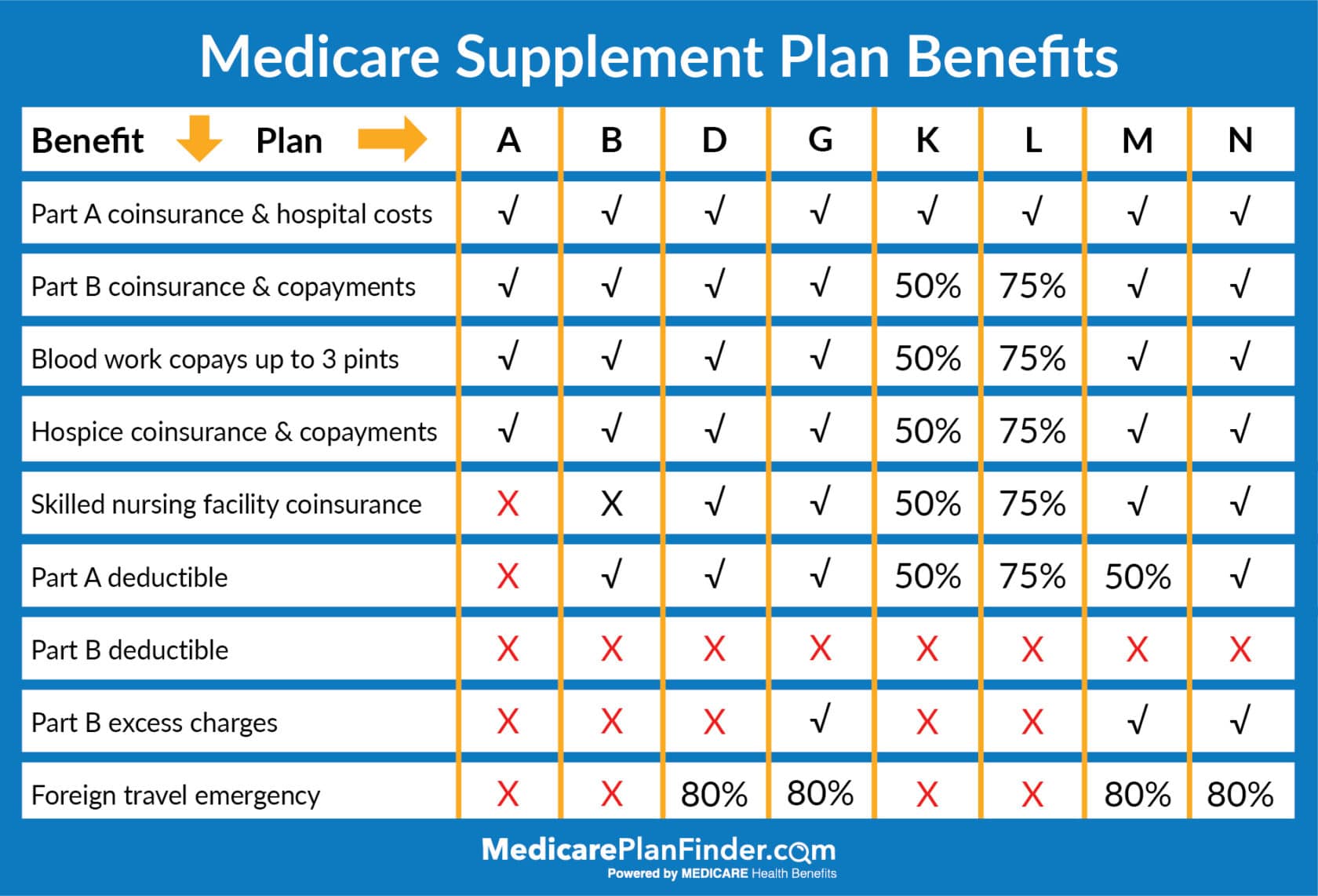 Comparing Medicare Advantage vs. Medicare Supplement plans
Let's look at Medicare Advantage vs. Medigap. In short, the difference between Medicare Advantage and Medicare Supplement plans is that one can supply health benefits while the other can supply financial coverage.
Medicare Supplement Insurance is a policy that's added to Original Medicare, Part A and Part B, to provide additional financial coverage. Medicare Advantage is a private plan option that may provide you with other health benefits that Original Medicare does not cover (like dental, vision, fitness programs, etc.).
You cannot have both Medicare Advantage and Medigap at the same time.
A given plan type (e.g., Plan F) has the same benefits regardless of the insurance company that provides the policy, or the state in which you reside. This is not true of Medicare Advantage plans, however, because coverage details may vary by plan.
Excluding prescription drug coverage, any standard Medigap plan with Part A and B will have more benefits than a standard Medicare Advantage plan. However, as mentioned above, some Medicare Advantage plans offer benefits beyond those found in Part A and Part B.
Some Medicare Advantage plans offer prescription drug coverage (often for an additional monthly cost). With a Medigap plan, in contrast, you would need to enroll in a separate prescription drug plan. When comparing plan options, consider your costs for drug coverage. In some cases, Medigap with a stand-alone prescription drug plan has lower total costs than a Medicare Advantage plan with drug coverage. In other cases, the reverse might be true.
[Tweet "Do your research! Comparing #Medicare Advantage vs Medicare Supplement"]


Real-Life Examples: Medicare Advantage vs. Medicare Supplements
Let's take a look at some real-life examples to help you decide whether Medicare Advantage or Medicare Supplements are right for you.
If you have Medicare Parts A (hospital coverage), B (medical coverage), and D (prescription coverage) and you are hospitalized for cancer treatments for 90 days, you may have out of pocket costs. The Part A deductible means you would pay well over $1,000 first. Once you meet your deductible, your costs will go down. However, after day 60, you'll be responsible for a portion of every day that you stay there.
If you have Medigap Plan B, your deductible and many of your other hospital costs will be covered. This plan would be in addition to your Part B coverage, so it would all work together to provide extra coverage.
If you have Medicare Advantage, you may have additional health benefits. You'd still likely be responsible for some of those out-of-pocket hospital costs, but your plan might provide a home healthcare benefit, meaning you can get a private in-home nurse when you are released from the hospital. You might also have coverage for medical equipment, such as bathroom safety equipment or a walker.

Comparison is key: Medicare Advantage vs. Medicare Supplements
When choosing between a Medigap plan and a Medicare Advantage plan, take the time to do your research. Read the benefit descriptions of every Medigap and Medicare Advantage plan you are considering. Be certain to look at:
Monthly premium
Deductibles
Doctor and healthcare facility restrictions
Benefits
Anticipated plan costs given your typical use of health-care and hospitalization services
Prescription drug coverage cost sharing as it relates to your medication usage
In the end, your decision is going to be the one that you feel the most comfortable with. The challenge is often wading through all the material to get to the bottom line. Want to make that a little easier? Give us a call at 844-431-1832.
---
This post was originally published on October 23, 2018, and was last updated on August 29, 2019.