2020 Medicare Changes & Trump's Executive Order
October 4, 2019
Every year, CMS (Centers for Medicare and Medicaid Services) reserves the right to make changes to the Medicare program. Rules and regulations around enrollment periods, penalty fees, marketing, and plan benefits are released in late summer and early fall for the following year. Costs can rise, and brand new plans can enter or leave the market.
Medicare is confusing as it is. When you add these yearly changes into the mix, choosing the right plan can be stressful. Our goal is to make all of this less stressful for you. Our website is a great educational tool, and our licensed agents can provide free assistance!
Here are the changes you need to know about for Medicare in 2020.
Contents:
Trump's Executive Order – October 3, 2019
On October 3, 2019, President Donald Trump signed an executive order "protecting" the Medicare program. What does this mean?
Alex Azar, Health and Human Services (HHS) Secretary, said that Trump told HHS to take "specific, significant steps" towards improving Medicare funding and improving healthcare for American seniors. These steps include lowering Medicare Advantage costs, allowing savings accounts, and improving access to new medical technology. It also leaves room for more plan options, more telehealth, more wellness benefits, and a stronger financial model.
In his post-executive order speech given in Florida yesterday morning, Trump stated, "In my campaign for president, I made you a sacred pledge that I would strengthen, protect and defend Medicare for all of our senior citizens." That was the intent of the executive order.
Is Medicare Going Up in 2020?
New 2020 Medicare premiums and costs for 2020 have not been released yet. The new numbers are usually released in early fall of the year prior, so we are expecting to see them over the coming months. The Wall Street Journal reported in April that 2020 Medicare Part B premiums are likely to increase by $8.80/month to a total of $144.30, but this is not final.
We will continue to update this post with new 2020 costs as they are released. Thank you for your patience!
2020 Medigap Changes
Just like the Original Medicare program, private plans like Medicare Advantage, Medicare Supplements, and standalone benefit plans can change every year.
What Medigap Plans will be Available in 2020?
Plans A, B, D, G, K, L, M, and N will be available in different areas across the nation in 2020. Plans F and C are being discontinued.
Plan availability may not be the same for everyone. Medigap eligibility, in particular, can depend on your age when you enroll, preexisting conditions, and where you live. Plans can be different not only in every state but also in every county and zip code.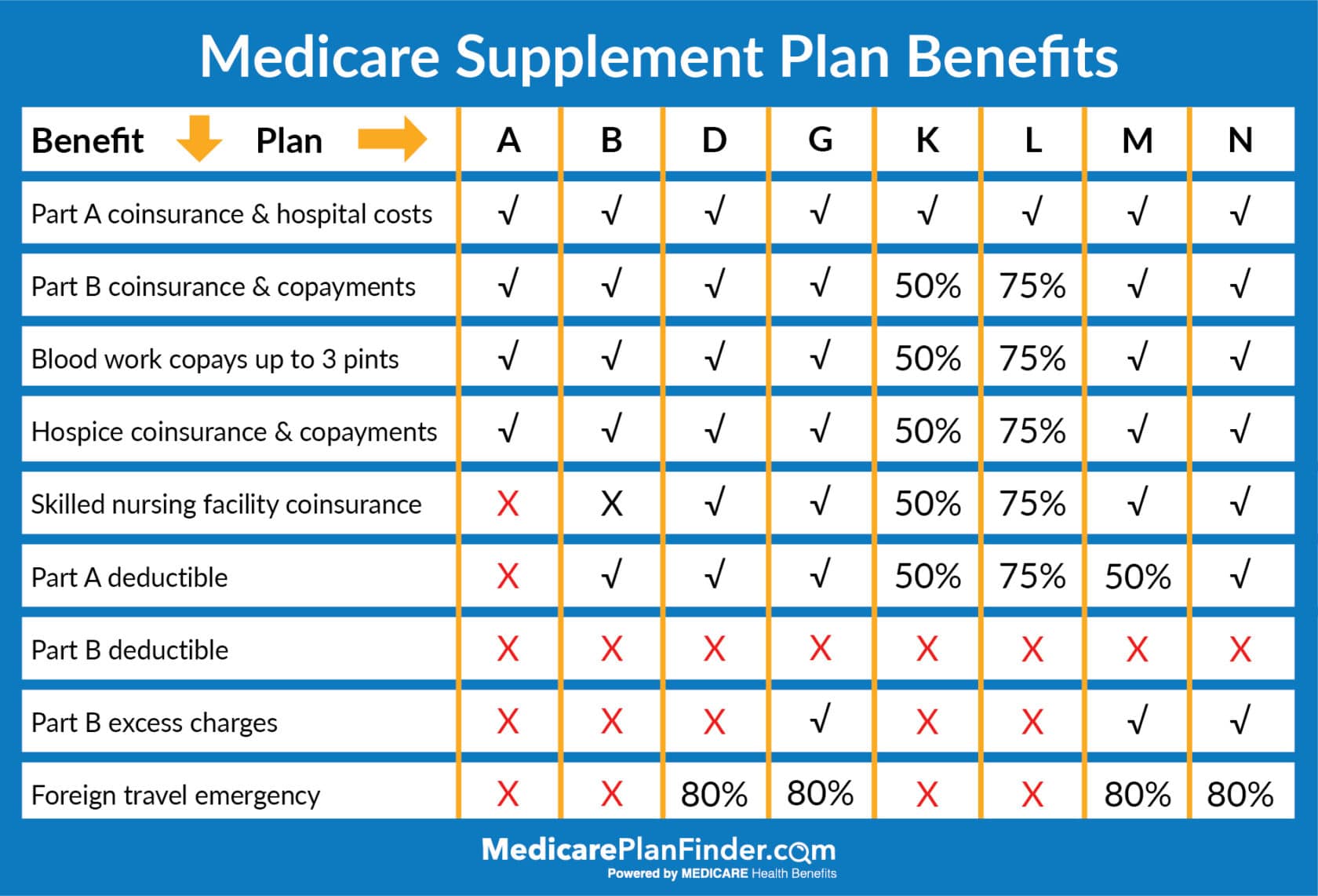 Use our plan finder tool to find out what Medigap plans are available in your area for 2020.


Is Medicare Supplement Plan F Going Away in 2020?
Starting in 2020, you will no longer be able to purchase Medigap Plan F or Medigap Plan C. Plan F was one of the most popular plans, and Plan C was fairly similar. The plans are going away because they include coverage for the Part B deductible (only $185 in 2019).
You might here plans C and F referred to as "first-dollar" plans because they virtually eliminate out-of-pocket costs. CMS decided that taking away the Part B deductible coverage was a smart move to discourage people from overusing their primary physician offices and costing the Medicare program a lot of money for unnecessary doctor's visits.
If you already have Medigap Plan F or Medigap Plan C, you can be grandfathered in. That means that you will not lose your coverage in 2020. However, if you leave your Plan F or Plan C in favor of a different Medigap plan, you won't be able to re-enroll in F or C.
Will Plan F Premiums Rise After 2020?
As Plan F sees less and less enrollees, Plan F premiums will likely begin to rise. We can't say this for sure and we will certainly have to wait and see what happens, but generally less enrollees means higher costs for the companies, resulting in higher premiums.
Will There be a High Deductible Plan G in 2020?
Since people will not be able to purchase Plan F or Plan C in 2020, CMS did want there to be another option with similar benefits. Plan G was already that option, given that the only difference is that Plan G does not cover the Part B deductible.
The other difference is that previously, Plan G was not offered with a high-deductible. If you typically have low medical costs, you may prefer a high-deductible option. Having a high deductible often means that your premiums will be lower. This way, you don't have to pay as much until you start experiencing health concerns. The high deductible Plan G option can replace the high deductible F option.
Donut Hole Closing in 2020
In addition to all of these plan changes, the infamous "Donut Hole" will be effectively closing in 2020. The Bipartisan Budget Act of 2019 closed the coverage gap for brand-name drugs in 2019, and the generic drug coverage gap will be eliminated in 2020. This basically means that, if you have a Medicare Part D plan, you will only be responsible for 25% of your covered prescription drug costs instead of 44%.
2020 Medicare Advantage Changes
There may be more Medicare Advantage plan changes to come in 2020, but we wanted to make sure you had heard about the changes from last year.
On October 12, 2018, the Centers for Medicare and Medicaid (CMS) announced the 2019 Original Medicare premium and deductible increase, but what about Medicare Advantage (MA) plans? Unlike Medicare Part A and B, beneficiaries enrolled in MA plans may see a decrease in their premiums in 2019 and 2020 compared to 2018.
2020 Medicare Advantage Cost Changes and 2020 Premiums
In September of 2018, CMS announced that on average, Medicare Advantage premiums will decrease by 6%. This is great for beneficiaries interested in affordable vision, dental, and hearing coverage or even fitness classes like SilverSneakers®!
CMS estimated that 83% of beneficiaries would have equal or lower premiums for 2019 and 46% will have a $0 premium! Premiums for MA plans have steadily declined, and this is the lowest premium we've seen in three years. This is a perfect example of a private and public collaboration that allows beneficiaries to drive and define the value. The 2019 Medicare Advantage changes are a quick glance of what you can expect to continue in the future.
2020 cost changes for Part A and B premiums and deductibles have not officially been released yet but are not expected to increase by very much. We will continue to monitor this information and will update as soon as the cost changes are officially announced.

New Medicare Benefits 2020
Early in 2018, CMS (Centers for Medicare and Medicaid Services) released new rules that allow Medicare Advantage plans to offer a few benefits, like "daily maintenance," transportation, telehealth, and durable medical equipment.
Some plans in 2020* are really going above and beyond, offering benefits like new air conditioners and pest control!
*These benefits are not included in all MA plans. Your agent may be able to help you find a plan that includes more.
Daily Maintenance
The addition of the "daily maintenance" benefit means that Medicare Advantage plans are now able to offer at-home care items, such as wheelchair ramps and other home modifications. Tied in with that benefit are other forms of durable medical equipment, like hospital beds, oxygen equipment, blood sugar monitors, etc, as well as "non-skilled" services. Non-skilled refers to items that do not require a licensed doctor or nurse, such as aides who can assist with bathing and dressing or homemakers who can help with cleaning and cooking.
Non-Emergency Medical Transportation Coverage
CMS has also added the ability for MA plans to provide non-emergency transportation coverage, a service that several Medicaid plans provide. This benefit (if your plan covers it) will allow you to receive free or low-cost rides to medical appointments and pharmacies. In most cases, you can only qualify for this benefit if you do not have another adequate means of transportation. The appointment that you are requesting a ride to must be for a Medicare-covered service.
Telemedicine and Telehealth
MA plans can now provide coverage for telehealth. That means you can have live video interaction with your doctor through digital clinics like HealthTap, Teladoc, and MDLive. Telehealth can also include health alerts delivered to your phone, health education apps, electronic medical data transfers, mail-order prescriptions, digital appointment scheduling and exam reminders, and more.
New Enrollment Period (OEP)
Before 2019, most people were only able to switch into new Medicare Advantage plans during the Annual Enrollment Period in the fall. Now, if you already have a Medicare Advantage plan, you may be eligible to make a change during OEP. OEP, or the Open Enrollment Period, takes place from January 1 through March 31. During this time, you can switch from one Medicare Advantage plan to another or drop your Medicare Advantage plan in favor of Original Medicare (Part A and Part B only).
Future of Medicare Advantage Plans
According to the Henry J Kaiser Family Foundation, enrollment has tripled to 19 million beneficiaries since 2003 and continues to grow each year. CMS estimates that MA enrollment will hit an all-time high of 22.6 million beneficiaries in 2019 (an 11.5% increase)!
As enrollment continues to increase, plan selection and variety increase too, with approximately 600 new plans offered in 2019! 99% of seniors and Medicare-eligibles have access to a MA plan – and 91% can choose from 10 or more plan options. Beneficiaries will not only see more plans to choose from, but also new supplemental Medicare benefits!
Enroll in a Medicare Advantage Plan in 2020
Are you interested in getting coverage beyond Original Medicare? Along with the new benefits, many Medicare Advantage plans offer dental, hearing, and vision coverage.
Our agents at Medicare Plan Finder can contract with nearly every carrier in your state! This means that you can enroll in the MA plan that best fits your needs and budget.
The Annual Enrollment Period runs from October 15 through December 7. Start looking over your plan benefits now so that you're ready to enroll before December 7!
Ready to learn more? Call us at 844-431-1832 or fill out this form to arrange a no-cost, no-obligation appointment with an agent in your area.
---
*This post was originally posted on November 8, 2018, and was last updated on October 4, 2019.